Looking to refresh your look for 2022? Make a statement with your sense of style this year. The perfect accessory to compliment your image, eyeglasses are a contemporary fashion essential.
Casual fit or formal wear? Funky styles or lifestyle-friendly? Whatever your image is, 2022 is a year for statement frames. Expect to see some emerging trends in eyewear this year, along with vintage aspects making a comeback.
But eyeglasses aren't just about fashion. The digital age can take a toll on your eyes, so relieve the fatigue with some spectacles that pop.
New frames call for new lenses, so make sure to get your eyes tested and your prescription updated. And take a look at all the eyeglass brands available this season. Need some glasses for those sunny spring days coming up? Then explore the sunglasses that are shaking up this year's catalog.
Let's check out what's hot in 2022!
Oversized Silhouettes
Look for oversized silhouettes, especially in square shapes. A throwback to vintage 70s looks, minimalist metal pairs with dramatic broad lenses. This style is versatile and can be worn in the office or for cosmopolitan affairs. Expect to see frames with a twist emerge in 2022, with the use of wood substances and clear acetate with giant lenses.
Oversized silhouettes give you wide panoramas through the looking glass. Enhance your field of vision with this 2022 eyeglass style.
Double Bar Aviators
Seemingly never out of style, aviators will be a catalog essential for eyeglass designers across the industry. Double bar aviators accentuate the browline and spice up these more traditional frames. Aviators will be featured frequently as a sunglass option and as a frame favorite for everyday glasses.
Watch out for double bars that mix in different materials in the frames. Or go for bold color in the frame to add some subtle flavor to a classic color scheme.
Statement Cat-Eyes
The cat-eyes of 2022 are loud and proud! Pronounced tips and angular frames are setting the stage for feline focal points this year. Women's styles specifically, will see embellished shapes that fearlessly make a statement.
Patterned frames are a big part of the cat-eye trend this year. Bold floral patterns and tortoiseshell are expected to gain popularity. Durable plastic cat-eye frames flatter almost every face and make them a trending choice for everyday glasses or part-time frames.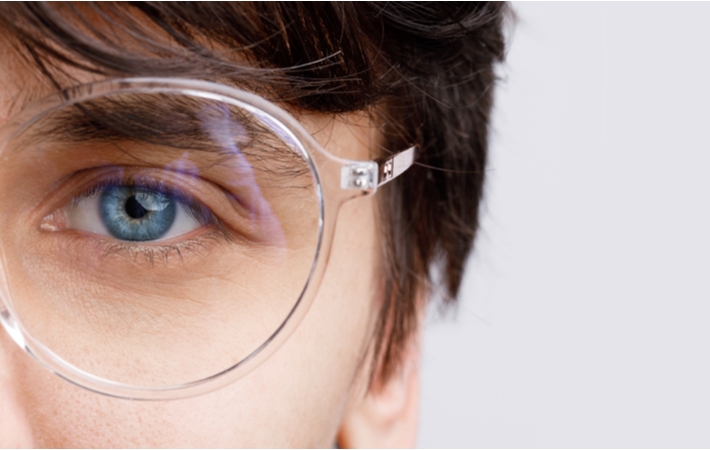 Translucent Frames
Translucent modern frames are shaping faces and shaping the trends in 2022. These frames give you so many options. From subtle color hues to an exposed-wire look, and progressive opaque finishes.
Available in a variety of shapes and geometries, warm colors will reign supreme this year. Watch for dusted pink nude and other blushes to make waves in translucent frame offerings. See-through frames can feature accents in the wire core with gold, silver, and gunmetal. This style is hot in 2022 because of the base color variety and numerous highlight options.
Chic Glasses Chains
Function meets fashion with the eyeglass chain making a comeback. Retro frames pair perfectly with glasses chains and 2022 is featuring unrelenting styles. Jewels, beads, gems, and more will adorn glasses chains this year. From the truly groovy, to more refined accessory, chains are going to be seen on this year's fashion-forward crowd.
Silver, gold, and pearlescent chains will rule the trend. Glasses chains will be complimenting collections across several frame styles in 2022.
Perfect Circle Round Glasses
Perfectly round glasses go full-circle in 2022, returning as a popular eyewear style. This retro silhouette may be most popular in men's collections but watch for selections in children's and women's catalogs too.
Perfect circle glasses will feature lots of colorful frames this year. Some collections will offer true showstoppers: perfect circle, bright-colored, two-tone eyeglasses. These Lennon-inspired shapes are a great option as your statement frame with power outfits.
Style Advice from Industry Experts
Whether you're a bold fashionista or down-low style junkie, there are eyeglasses that will inspire you in 2022. Finding the styles that you love is always easier with some help from the experts. Let our Eyewear Collection Curators help unlock your 2022 style with glasses that live up to your lifestyle.
Our eyeglass gurus make sure that the frames you love match your face shape and compliment your beautiful eyes! Be progressive in 2022 and visit our optical dispensary for the glasses that will give you confidence this year!